A. T. Olsen
Biography
A.T. Olsen, though lacking in formal training, is a self-taught devotee of ancient cuisine and in this volume explores the vast range of culinary excesses upon which much of the Bible's message hinges. Olsen scours the Bible to bring extraordinary dining experiences to the masses in this tome of timeless treats. The reclusive pundit, Olsen was brought up by depression-era parents who demanded that he "clean his plate" … or else. Often choosing "or else", he never quite developed an epicurean sensibility until his college years. World travels and exotic destinations exposed Olsen to many unique foods and flavors. Then a borderline epiphany blanketed our intrepid editor and the message of the Bible reached out and grabbed his artistic sensibilities (both of them) and this collection of amazing recipes is the result.
Videos
Episode 1: A.T. Olsen Reveals his Favorite Most Controversial Recipe
The secret messages of the Unauthorized Bible Cookbook are explained. Why now? Why the Bible? Editor/Chef/Explorer A.T. Olsen explains all. And he reveals his favorite recipe ("inspired") recipe, Onan's Mock Hollandaise Sauce, and its controversial old testament back story.
Books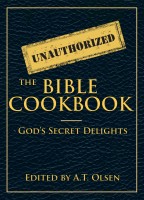 The Unauthorized Bible Cookbook: God's Secret Delights
by

A. T. Olsen
WARNING: SOME PEOPLE MAY FIND THIS BOOK OFFENSIVE! That said, for Heaven's Sake, let's Get Cookin'! Get off the couch, out of your man-cave and set up your backyard BBQ! The Unauthorized Bible Cookbook takes you back to when men were men. Bible cooking is a manly art...plenty of meat, blood and bones, and portions that serve thousands. Rib ticklin'? Yes. Authentic? Yes. But, unauthorized by God!
A. T. Olsen's tag cloud