Adam Feury
Biography
I studied in creative writing and education at West Virginia University for several years. After that I came home, fell in love and got married to the woman of my dreams. We have a beautiful daughter together and a son on the way (be here any day now.) I've always been interested in writing, and with the E book explosion that's went on over the last couple of years, I figured I didn't have anything to lose in giving it a try.

For some free writing I do, go on over to fanfiction.net and search for Harkon. I've got a couple of stories out there.
Books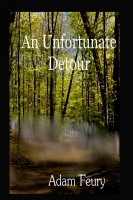 An Unfortunate Detour
by

Adam Feury
An accident along a dark country road one night leads Alec Broadridge into the small town of Lordsrun. It doesn't take Alec very long to realize that something is wrong with this town. The people are haunted by something lurking in the dark, something that caused Alec's car crash. Something that's hungry.
Adam Feury's tag cloud