Adla Hannon
Biography
The late Adla Hannon is not only an author but a grandmother as well as a musician. Adla's experience as a nurse on the front lines of WWII allowed her to publish her amazing true story Adventures of a World War II Army Nurse. Her novel is captivating and amazing as it is a firsthand account of the brutality and hardships of one of our world's most devastating wars. It's through her experiences that she matures and gains a full understanding of our small world.

Her skills as a well-rounded author are evident in her children's book, Christmas in Kangaroo Land, as it exists is stark contrast to her first novel. Whatever the case, Adla and her stories and music will be missed. We hope that you find the same joy in her stories as so many before you.
Books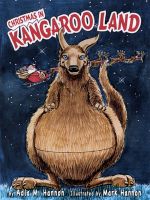 Christmas In Kangaroo Land (Digital Edition)
by

Adla Hannon
Christmas in Kangaroo Land is a magical new book for younger children to hop right into. The book follows the kangaroos of Kangaroo Land through a surprising Christmas Eve when Santa Claus hits a meteor and has to land in the outback of Australia. Mommy kangaroos are ready to jump right in and help out. Their pouches come in handy as they bounce away with presents inside!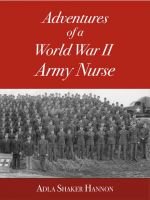 Adventures of a World War II Army Nurse (Digital Edition)
by

Adla Hannon
On December 7, 1941 Sarah Elizabeth Hakobian had just completed the first four months of her three year nursing course. As she studied for her anatomy exam, with her radio playing soft background music, the distinctive voice of John Cameron Swazie interrupted the program to announce the horrific attack on Pearl Harbor by the Japanese.
Adla Hannon's tag cloud