Athanasio Dzadagu
Biography
Athanasio Dzadagu was born in Harare, Zimbabwe, on 1 June 1962. After completing Primary School education at Chindotwe Primary School in Musana Communal Area in 1976, he went to embark on training for priesthood at St Charles Lwanga Minor Seminary in Chimanimani, near Mutare, in 1977. Having successfully completed his GCE "O" Level studies in 1981, he proceeded to higher studies for priesthood at Chishawasha Regional Major Seminary in 1982. He completed these studies in 1989, emerging with a BA Honours degree in Religious Studies from the University of Zimbabwe, in combination with successful completion of his priestly studies. Following ordination to priesthood in 1989, Athanasio Dzadagu worked at the following parishes in Zimbabwe: Mt St Mary's Hwedza (1990), Chihota (1991) and St Michael's Mission in Mhondoro (1992-1996). In August 1996 he went to Britain to undertake further studies, completing a Master's degree in Systematic Theology and a PhD in the Study of Religions at the University of London. After completion of his PhD studies, circumstances dictated that he stay on in Britain, contrary to original plans. In 2001 Athanasio Dzadagu founded the Zimbabwean Catholic Community in England and Wales, which has become known worldwide in Catholic circles as a successful and vibrant organisation. Founding this organisation was actually one of the major reasons why the Archdiocese of Westminster, especially one of the then auxiliary bishops of the said diocese, did not want him around, even though they were delighted to take over the organisation and boast of its sound structures. Following the breakdown of his relationship with the Archdiocese of Westminster, Athanasio Dzadagu left the priesthood in October 2014, after twenty-five years of ministry. Apart from "Zvinotevedzwa Pakuroora kana kuroorwa", Dzadagu is also the author of two other books: "Now That The Dust Has Settled" and "Recollections and Reflections". "Recollections and Reflections" covers his relationship with the Archdiocese of Westminster. In addition to being an author on religious and cultural matters, Dzadagu is also a qualified psychotherapeutic counsellor, specialising in relationship and bereavement counselling.
Books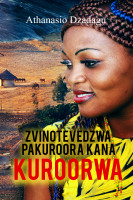 Zvinotevedzwa Pakuroora Kana Kuroorwa
by

Athanasio Dzadagu
Chinyorwa chino chine chinangwa chekubatsira pakuoroora, kuroorwa, uye kuroorerwa. Chinobatsirazve vanenge vabvunzwa nevatarisana nezvizvi. Nhanho dzinotevedzwa kubva pakunyengana kwemukomana nemusikana kusvikira pakusungirwa kwemudzimai nekutarwa kwemwana dzinotsanangudzwa muchinyorwa chino. Chinozopeta neongororo yenyaya yekuti ndhezvipi zvinobatsira kana kukanganisa kugarisana kwevaroorana.
Athanasio Dzadagu's tag cloud