D.M. Sanders
Biography
D. M. Sanders has traveled the world many times which has given him a unique perspective on human
behavior and character. In spite of his travels, he has kept close ties to the Appalachian region of Virginia where he was born and raised and
from which he received his inspiration for Spirit Wind.

A graduate of the University of Virginia, Wise, he has gone on to achieve the highest levels of
technology recognition and built several international companies successfully.

A spiritual man, he is active in his church and is a leader in his community. It is his hope that the story of Spirit Wind is entertaining, uplifting and enjoyable to all who read it.

He donates a portion of all proceeds from his book sales to charities that support needy children.
Books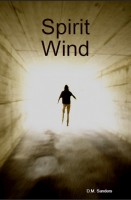 Spirit Wind
by

D.M. Sanders
The wind was strong and carried with it biting cold that he had become so accustomed to in these mountains. Colin O'Donnell was not a large man but was strong and not without a share of courage. A number of times he had been faced with life threatening circumstances from men as well as beasts and prevailed. He was known as a quiet individual who was slow to anger but a formidable opponent.
D.M. Sanders' tag cloud