Aileen Baron
Biography
Aileen G. Baron taught archaeology at California State University, Fullerton, and conducted extensive archaeological fieldwork in the Middle East. She is currently the president of the Orange County chapter of Sisters in Crime. Her mysteries in the Lily Sampson series, feature an American archaeologist working in the Middle East during World War II. The latest in the series are THE SCORPION'S BITE and THE TORCH OF TANGER. THE GOLD OF THRACE is a contemporary mystery, the first of a series about the intrigue and deceit in the antiquities trade, and features archaeologist Tamar Saticoy.
Where to find Aileen Baron online
Books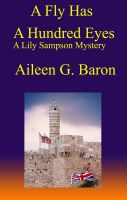 A Fly Has A Hundred Eyes
by

Aileen Baron
a fly has a hundred eyes is the first mystery in the lily sampson series. in british mandated palestine in 1938, lily is plunged into a labyrinth of danger and intrigue when the british archaeologist, director of her excavation, is murdered on his way to the opening of the rockefeller museum.