Kaelan Cessna
Biography
Kaelan Cessna is an aspiring writer with a passion for creating new worlds, as well as re-creating the present one. Her writing projects include novels and short stories in the realms of high fantasy and urban fantasy, with little excursions into science fiction (though they tend to come out sounding more like fantasy as well). Kaelan loves books and has since she was four months old. Growing up, she read voraciously, and it wasn't long before she was inventing stories of her own. She is currently earning a Bachelor of Fine Arts degree in creative writing from Full Sail University. She lives in Colorado, but as much as she loves living under the shadow of the Rocky Mountains, she dreams of one day moving to England.
Where to find Kaelan Cessna online
Books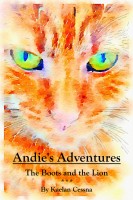 Andie's Adventures: The Boots and the Lion
by

Kaelan Cessna
In this re-imagining of the classic fairy tale "Puss In Boots," Andie is a little girl on a mission to deliver a message for a friend with the help of her magic boots.
Kaelan Cessna's tag cloud