Ajatsa Lyng
Biography
Ajatsa Lyng has a degree in Comparative Literature and she loves manga, anime, sushi, Tokyo, photograhy, swimming, meditation, her violin, theme parks, Rage Against the Machine and Muse. Her ancestors come from Russia, Germany, Norway and Denmark and she is currently living in Northern Europe.
Where to find Ajatsa Lyng online
Series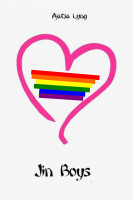 Jin Boys
by

Ajatsa Lyng
Jin Boys is a yaoi prose series inspired by yaoi manga. Most yaoi is aimed towards teenage girls, but this new take on yaoi prose is both literary and humorous without missing any of the steamy details and thereby suitable for a mature audience. Ajatsa Lyng makes use of all the characteristics of yaoi manga and by pairing these with the features of literary prose, the outcome is quite unique. The series follows the university student Charlie, his eccentric employer Rufus, his former neighbours Martin and Eric, his older brother Frank and Frank's colleague Ray through their ups and downs in life, love, and relationships as they embark on their individual journeys where they cross paths in different and surprising ways. The story takes place in modern day England with a few detours to Japan and the US. In the five volumes of the Jin Boys series you'll encounter seductive semes, confused ukes, cute little chibi-characters, nosebleeds and everything else that is essential to good yaoi (prose), so please enjoy!
Books
Ajatsa Lyng's tag cloud
Ajatsa Lyng's favorite authors on Smashwords