Daniel Garza
Biography
Daniel Garza tiene más de dos décadas de experiencia en el sector público y privado administrando prensa, relaciones públicas, y dirigiendo proyectos empresariales a todo nivel de gobierno. Nacido en el Valle Central de California, Garza y su familia tomaban la trayectoria anual desde su ciudad natal Garza González en Nuevo León, México, a los estados de California, Nebraska y Washington durante de la temporada de cosecha de los trabajadores agrícolas.
Su conocimiento sobre la experiencia de la comunidad inmigrante, le ha ganado la reputación por abogar de parte de los Hispanos y Latinos por políticas sanas que reconocen el estatus que nuestra economía presentemente requiere y que rol que esta comunidad vital juega en llevar a cabo soluciones. Garza, quien es un ex miembro del personal de la Casa Blanca, ha sido destacada en la publicación Fox News Latino, entre "Diez Jóvenes Latinos en la Política Que Ver en 2013 y la lista Polymic de "Diez estrellas de la política de quien deberías saber en el 2013".
Debuto en el ámbito político como asistente en las oficinas del Congresista estadounidense, Richard "Doc" Hastings antes de ser elegido a concejal de la Ciudad Toppenish, Washington en 1996. En el 2001, Garza fue elegido por la Administración del Presidente George W. Bush como Director Diputado en la Oficina de Asuntos Externos y Intergubernamentales del Departamento del Interior en Washington DC, y en el 2004, fue seleccionado como Director de la Oficina de Asuntos Públicos en la Casa Blanca. En el 2006, cambio de la política a publicaciones como Presidente de HISPANIC PODER Group de la empresa Televisa donde administraba asuntos editoriales, comerciales y promociones al igual que las publicaciones HISPANIC, Hispanic Trends, PODER y Tu Dinero. Garza también trabajó como co-productor y presentador del programa en español "Agenda Washington" por la cadena Univisión que cubría asuntos estatales, económicos, políticos y sociales que impactaban a la comunidad estadounidense. En el año 2016 Garza fue seleccionado servir al Board of The Harvard Journal of Hispanic Policy, una revista académica no partidista que publica obras de las políticas y las pólizas.
Actualmente, es el Presidente de La Iniciativa LIBRE y reside en McAllen, TX con su esposa y tres hijos.
Books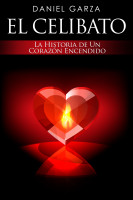 El Celibato
by

Daniel Garza
Novela Romantica Explora los controversiales temas de relaciones modernas y el celibato
Daniel Garza's tag cloud