Al Cooper
Biography
Al Cooper was born in Yorkshire, England but has lived in a variety of places in UK and also in China and Canada.
He is a highly experienced manager of change who, has been educated at Leicester University and at City University London. He has more than 20 years experience working with blue chip companies, working across a number of industry sectors and with a diverse range of functional experience from marketing, sales, finance to manufacturing and distribution, he has an excellent track record in delivering and motivating change to bring about bottom line £-benefits.
He has established several businesses in China with his Chinese born wife and in the UK.
As a successful business coach he has applied many of the techniques and systems in this book first hand to get his businesses to break-even in 4 months! With his clients he has enabled the more dedicated to achieve monthly profit figures that were previously their monthly income.
Al has has successfully managed hundreds of projects from the small up to £6m. He has often said to be a natural in negotiations he has a history of win-win contracts, the best achieving 30% savings of £1m, year on year.
Alan has always been committed to change for the better, change with a clear purpose and adopted a motto taken from Sun Tzu's , The Art of War, "Do it right, do it better."
With a passion for adventure travel he has travelled more than 30 countries; flown in micro-light aircraft through the spray of Victoria Falls, trekked up mountains, viewed 5 of the world's highest mountains; and encountered a wild orang-utan whilst slightly lost in the jungle and been chased by hippos and elephants.
He has been a executive coach and business coach. He is also reached the rank of 3rd dan black belt in Ju Jitsu and been a qualified martial arts coach.
Books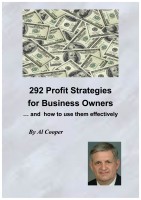 292 Profit Strategies For Business Owners And How To Use Them Effectively
by

Al Cooper
This book is aimed at owners of small businesses who want to know how to plan, market and sell their way to better profits on a sustainable basis. It can be used by any business and has been tried and tested across the world by thousands of businesses. It presents an easy step by step approach to working on the 6 key profit components in all businesses that leading entrepreneurs use naturally.
Al Cooper's tag cloud