Alan Cliff
Biography
Playwright based in Waterford City, Ireland. Originally from Manchester, UK, I have written several full length plays, one-acts, short sketches and monologues. Interested in meeting writers of the same medium to trade work in order to discuss and offer feedback on scripts.
Ran Scriptwriter Workshops in local library (2010-2012). Material has won awards at local drama festivals and has been listed as winners of newspaper awards in recent years.
Am also interested in reading work from playwrights with a view of staging the work in local theatres or, ideally, at other site-specific locations.
Main mission is to make play-reading as recreational and as popular as reading any other medium of writing. Wish to advertise plays as short, soul-busting reads that all readers can become engaged with.
SALVATION, my first E-Publication is also available in paperback. If any theatre groups are interested in reading a paperback copy of the text do get in touch and I can arrange delivery of the script.
Books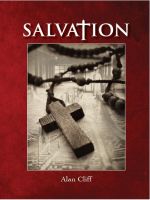 Salvation
Full Length Play, written and premiered in 2013. The play, with a cast of four (2M, 2F) follows the relationships, experiences and pressures of three workhouse inmates and a contentious new arrival - a nurse - during mid-nineteenth century Ireland. Story follows the courage and bravery of those in a tragic and harrowing environment striving to harness one objective: Survival.
Alan Cliff's tag cloud