Alan Novarc
Biography
Every person on planet Earth has his or her own amazing experiences to share - experiences that, when they are told, will enrich the lives of others. With this wonderful resource called the Internet, we are now able to share, almost instantly, our experiences with others around the world. The author is committed to being a messenger in this great network with the hope that others are influenced and enriched in a positive way. The author's latest book, Shingles Relief!, is a real-life account of a worst-case shingles experience and convincing remediation solutions. The author has written seven other books in a different genre and is currently finishing a soon-to-be-released non-fiction thriller.
Books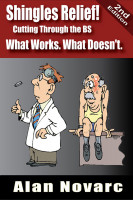 Shingles Relief! Cutting Through the BS What Works. What Doesn't.
by

Alan Novarc
"Shingles Relief!" presents a broader spectrum of science-based remediation and disease management solutions for Shingles and PHN (postherpetic neuralgia) sufferers. Not a rehash of information already widely available on the web! Highly recommended reading for practitioners, for those currently suffering from a shingles infection or PHN, and for those wanting to avoid an outbreak altogether.
Alan Novarc's tag cloud