Albert Talker
Biography
Albert Talker has worked with Wall Street firms for nearly 20 years and is currently the President of MoneyPins Corp (Electronic Wallets). He has published several essays and articles on the financial stability of the USA (Wall Street risk-taking), the executive compensation systems in Corporate America that leads to short term profits and bad long-term management decisions, and the changing of the workforce in downtown New York City with cheap H-1 labor, specifically after Sept.11. He is a graduate of the City University of New York, and the NY Institute of Technology, majoring in Physics and Computer Engineering.
Books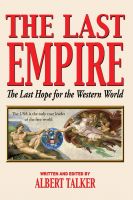 The Last Empire --The Last Hope for the Western World The USA is the only true leader of the free world
by

Albert Talker
The Last Empire details how the United States has lost its edge as the leader of the free world. Pointing to such things as loss of political integrity, erosion of its peoples' values, lack of education and increasing criminal activity, author Albert Talker warns that these evils threaten our nation's standing in the world and might bring about the total collapse of our once great empire.
Albert Talker's tag cloud