Albion
Biography
As I hope is self evident the nature of the material I am publishing requires anonymity and as such there are no biographical details, a least not the traditional ones you might expect. The name Albion was chosen because it is the name of my country before Christianity arrived here. It is therefore safe to assume that I am an Englishman. By the same token there is no point detailing any academic distinctions or distinguished institutions I am a member of. This project, the Declaration, is in keeping with the age old English tradition of the gifted amateur overcoming the efforts of the professionals and the partisan. I have dedicated two decades to code breaking and religious politics and due to the magnitude of what I am declaring anonymity is the only option. It is also the option served by the nature of the technology at my disposal today and it is that technology which has made this moment possible.
Where to find Albion online
Books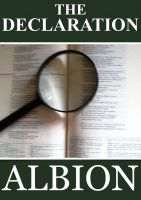 The Declaration
by

Albion
This is the notification to the world that the Book of Revelation is a code and the Bible is the greatest deception ever told. It is the culmination of two thousand years of deception and two decades of code breaking. This book sets out the overall design of the conspiracy and is necessary prior to a full diclosure. Jesus Christ in Revelation is not Jesus of Nazareth and that is only the start...
Albion's tag cloud