Alex Miller
Biography
Alex Miller grew up in Spring Hill, Tennessee, and lived in Nashville for a few years. He's a newspaper editor who lives with his wife in Hilo, Hawaii. He misses the South, and especially all the hot weather, poverty, crime and rampant unemployment, but—if he must—he's willing to go on living in Hawaii for a little while longer. Or maybe forever.
Books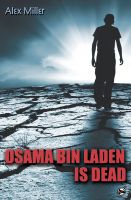 Osama bin Laden is Dead
by

Alex Miller
Osama bin Laden is Dead is about growing up in a sad little town in the middle of nowhere. It's about going to high school with a bunch of rich kids who hate you because you buy your clothes at Walmart. It's about your parents manipulating you into enrolling in a creepy Christian college where morons go to be brainwashed. It's about dating a girl who won't put out.
Alex Miller's tag cloud