Alexa Grave
Biography
Alexa Grave loves to tell stories--it just so happens her characters occasionally take her on an unexpected ride. Her story "Kindled Morphogenesis" can be found in the anthology Modern Magic: Tales of Fantasy and Horror. She has a M.F.A in Writing Popular Fiction, and she is a member of Broad Universe. Please visit her on her website, http://www.alexagrave.com, or her blog, Born to Write, http://alexagrave.blogspot.com.
Where to find Alexa Grave online
Books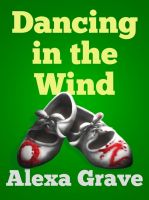 Dancing in the Wind
By
Alexa Grave
Price:
$1.25 USD.
Words: 6,110. Language: English. Published: October 24, 2012. Category: Fiction
The Wizard of Oz is a timeless story that nearly everyone knows about. So what happens when that timeless story is turned on its head? Dorothy is a bully who is thrown into the world of Oz. She gets a taste of her own medicine from a crazy trio of munchkins and the Wizard of Oz himself. This story received an Honorable Mention in the L. Ron Hubbard's Writers of the Future Contest.
Alexa Grave's tag cloud