Alexandra The Great Simmons
Biography
Hello I'm Alexandra Simmons and write under the name Alexandra "The Great" Simmons. Not that my writing is great, though I hope it is, it is just a play on the name! I like to write sexy and scary stories, in the erotic horror genre. Some of it is slightly romantic but they always have a bit of horror thrown in.

As to me I am approaching middle age and live in Oklahoma having recently moved from Colorado. I like to share what I write. I like short stories best and tend to cover the same characters. I have a trio of lovely vampire women that I am putting up first. I also have a series of short stories I am working on about a female werewolf, known as a she-wolf. Her name is Amy and collection of her stories will be available very soon.
Books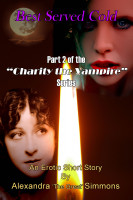 Best Served Cold
by

Alexandra The Great Simmons
Part 2 of the Charity the Vampire series. Like a bad penny, Vera just keeps on turning up every few years. Can Vera be trusted? Who is the guy she brought along? His blood has a taste in it that Charity just can't identify. In the heat of passion, things suddenly take a disastrous turn, leaving Charity fighting for her life as her 'friend' decides that revenge is best served cold.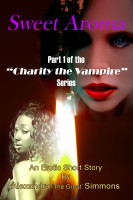 Sweet Aroma
by

Alexandra The Great Simmons
The first short story featuring Charity the female Vampire. Miranda's sweet aroma is so intoxicating that it's all Charity can do not to throw Miranda on the floor and taste her right then and there. Hours later, she can finally can savor her completely. Surrounded by her sweet aroma, Charity almost loses herself in the passion and feeding frenzy, as Miranda becomes her new flavor of the week.
Alexandra The Great Simmons' tag cloud