Austin Edward Sears
Biography
Hi. First of all, I am pleased to offer everyone my free study guide for my book "Growing Up Down On The Farm". To get this study guide simply e-mail me at "Algird1@msn.com" and put in the subject line "Study Guide". Thanks. Now, in real life my name is Algird Andrew Sunskis, Jr. the 4th. I go by "Al". The name "Austin Edward Sears" appears on my e-book cover as my nom de plume i.e. my pen name. "Austin" was one of my two best friends when I was in the primary grades in the early 50's. Tommy was my other best friend. Tommy is the guy I have riding shotgun in the chapter entitled The Slammer. "Edward" was my older brother's middle name; Jim passed away 25 years ago, USMC Semper Fi. And "Sears" is the name of my favorite teacher. I honor them all with this penname. As for me, I am hooked on American History and Social Sciences. It fascinates me. My wife Joyce (nee Hess) is both a Berkshire County MA/California girl. We have been married forever. I have a son, Algird Jr. the 5th. He goes by "Andy". His darling wife, Hana, keeps him on the straight and narrow. I sometimes think Hana and Joyce are somehow related. ;-) Anyway, Joyce and I are now retired and living in Berkshire County, Massachusetts. We love the county, we love the people here, and we hope they and you will each enjoy this book about the reality facing a kid growing up "down on the farm". The editors called it, "humorous, comical, and disarmingly direct". I don't know...maybe. What do you think? You can e-mail me anytime. In closing I offer for your consideration the words of Donald G, Schwab (SHS), "Read, not to believe nor to contradict, but to weigh and consider." Peace.
Smashwords Interview
Books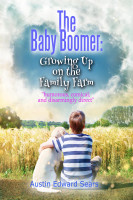 The Baby Boomer: Growing Up on the Family Farm
by

Austin Edward Sears
The Baby Boomer: Growing Up on the Family Farm is a heart felt remembrance of those curious, and wonderful, and confusing days of yore when kids like us first made our way out into the world. It is a humorous, comical, and disarmingly direct accounting of living on a family farm that shares history, insights and wisdom about the booboo's and BOOBOO'S we made while growing up.
Austin Edward Sears' tag cloud