Alicia Gray
Biography
My name is Alicia and I serve as an individual and couples therapist, consultant, and coach. Two of the main subjects I deal with during my daily practice are relationships and sexuality.
I use a wide range of methods in my work, including behavioral therapy, coaching, consultancy, and self awareness which are sprinkled with a bit of spirituality and tailored specifically for each and every couple or individual.
The essence of the aspects in which I deal with my patients are based on my knowledge and experience which I have acquired through my work with many individuals and couples. The subjects I choose for my books are those I learned that are bothering a large portion of my patients, including couple relationship challenges,betrayals, sexuality, and know how in sexual practice.
In my years I have learned, that so many people needs guidance and support in these subjects, until I finally came to realize that my mission is to share my knowledge and experience with people as much as I can.
My knowledge and experience are shared so human beings can approve their couple relationships, love life, sex life, and overall quality of life.
I believe that high quality information is a first step to successfully dealing with various challenges. When knowing what are the most important essence of couple relationships and how to make the best out of them the inevitable result is a healthy and happy life.
I hope my mission , which is expressed in my books, will help all those who needs guidance to establish a satisfying relationship and to experience love.
With lots of my love,
Alicia
Books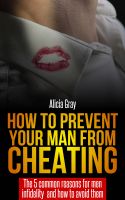 How to Prevent Your Man From Cheating -The 5 Common Reasons for Men Infidelity and How to Avoid Them
by

Alicia Gray
If you have been betrayed or if you want to prevent it from happening, this book will give you an understanding for the common reasons for men cheating and a variety of practical solutions and creative ideas to bring back the intimacy, love, and satisfaction to your relationship so that neither of you feel the need to seek thrills and emotional satisfaction outside of your marital relationship.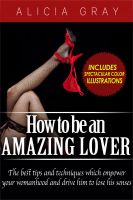 How To Be An Amazing Lover- The best tips and techniques which empower your womanhood and drive him to lose his senses
by

Alicia Gray
An amazing guide for women who want to express their sexuality,to give their man a tremendous sexual pleasure, empower their femininity, sexuality and sensuality. Includes all the methods and techniques you need to drive him to LOSE HIS SENSES Contains spectacular 3D color illustrations.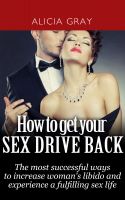 How to Get Your Sex Drive Back- the Most Successful Ways to Increase Woman's Libido and Experience a Fulfilling Sex Life.
by

Alicia Gray
If you are bothered by low libido or a decreased sex drive this practical guide book will give you answers to: *the reasons for decreased sexual desire in women *How to identify your own personal problem *how to increase your libido and regain your lost interest in sex *The best and creative techniques, methods, and ideas to bring your sex drive back and allow you to enjoy a fulfilling sex life
Alicia Gray's tag cloud