Jessica Baker
Biography
Jessica M. Baker is a Self-Development & Relationships Expert, Certified Matchmaker, Founder & CEO of AlignedSigns.com. Aligned Signs is an online and mobile application self-discovery and relationship platform. Following an extensive career in the financial industry, Jessica embarked on a personal quest to find meaning in herself and in relationships around her through a combination of ancient wisdom and modern psychology. She has since dedicated her life to helping others in their personal journeys of self-discovery and fostering deeper, more meaningful relationships with others. Through Aligned Signs, she has helped tens of thousands of individuals by providing them with the tools to connect with the insight and the people who will help them thrive. 
Jessica graduated summa cum laude with a Master of Business Administration in Finance and a Bachelor of Science in biology from the University of Texas. She currently splits her time between New York, NY and Los Angeles, CA. 

Where to find Jessica Baker online
Videos
Your Soul Mate / Friends, We have it All. Get Connected in the most Intrinsic Ways!
Aligned Signs provides the most genuine form of self-awareness and connection offered today. Members experience exceptional compatibility if they choose to meet others using three principal tools: the Myers-Briggs® Personality Type Indicator, Western Astrology and Chinese Zodiac. Chinese Zodiac and Western Astrology are tools that are considered internationally renowned and have stood the test of time. The MBTI® instrument is the most trusted and widely used personality assessment in the world
Books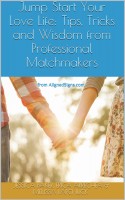 Jump Start Your Love Life: Tips, Tricks and Wisdom from Professional Matchmakers
by

Jessica Baker
The dating scene can be harder to navigate today than ever. Between social media, hook up culture, and endless options, getting a handle on the formula to lasting love is tricky. Luckily, professional matchmakers Jessica Baker, Erica Arrechea, and Melissa Lapchuk have used their years of experience to compile their advice and insider knowledge for the first time.
Jessica Baker's tag cloud