Alison Walker
Biography
From a very early age Alison was deeply interested in the questions "Who Am I?" and "Why Am I here?" Initially she looked for answers in her work as a psychotherapist, as a wife and mother, in meditation and in following inner guidance, but she found no lasting fulfilment.

Finally leaving the UK and everything that was familiar she and her husband began a new life in New Zealand in 2001. Still finding no answers she called out in desperation. Help came in the form of a book by world teacher Gangaji called 'Diamond In Your Pocket'. After reading the book Alison knew she had found her teacher. Gangaji told her to "Stop" and in stopping answers were finally revealed.

Alison and Geoff invited Gangaji and her husband Eli to visit New Zealand to share with the people their invitation to discover the truth in themselves. They hosted visits in 2010 and 2011.
Books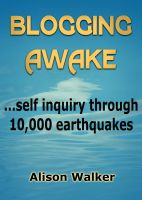 Blogging Awake: self inquiry through 10,000 earthquakes
by

Alison Walker
Discovery can be made in horrendous times as well as times of joy. In earthquakes when everything can shatter 'Truth' is untouched, still and silent in all circumstances. With Self Inquiry, as pointed to by Gangaji, the illusion of 'me' is shown and the stories that defined 'me' come tumbling down, shattered by self inquiry. Truth is revealed through direct experience, not learning.
Alison Walker's tag cloud