Allan Krummenacker
I was born and raised on Long Island New York. Always a dreamer I fell in love with Fantasy, Sci-Fi, and Horror shows and movies. Some of my favorite all time TV shows that I still watch on DVD are the original Dark Shadows, the original Twilight Zone series, Doctor Who, The Outer Limits (original) and many others.

I came to California in the mid 1980's with my Mom and one of my brothers. Once here, I fell in with a great crowd of Doctor Who fans who introduced me to other science fiction clubs and conventions. It was while attending the Sacramento Doctor Who Fan Club that I met my wife Helen. Together, we got into costuming and attending sci-fi conventions where I learned a great deal from authors, actors, and those folks in the special effects departments. All these experiences helped fire my imagination and I began writing short fan-fic stories for the club newsletters.

in 2008 my career in Real Estate took a downward spiral and I began to rewrite story-lines of shows to keep my spirits up. Soon I realized my rewriting efforts had taken on a completely different life from the original shows I was watching. Eventually, I began taking the story lines I'd created and re-populated them with original characters of my own. I brushed up on my grammar and began researching agents and publishing as well.

The result was my Para-Earth Series where I introduce both my characters and readers to a whole new take on the parallel world concept. To date I've produced two novels in this series and am currently working on my third book with more coming next year.

So pull up a chair and sit back as I share with you tales of ghosts, psychics, and mysterious beings unlike anything you've ever read before.
AllanTheAuthor
These videos all come from my YouTube channel where I do a blog about writing and the things you have to take into consideration as you write. I also throw in some comedy bits just for giggles and to keep the videos from being too dry and serious. Enjoy.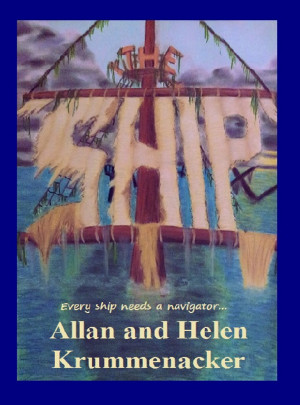 The Ship
by

Allan Krummenacker

&

Helen Krummenacker
(4.00 from 1 review)
What starts as a simple surfing lesson, turns into a struggle for survival for billionaire heiress Cassandra Elliott and her new love interest the Seneca shamaness Julie Cloudfoot. Cassandra is knocked off her board by an unseen assailant that leaves a terrifying gash in her wetsuit, along with a small red mark on her leg. Soon, terrifying visions of a ghost ship begin haunting her dreams.


Vampires Rule on March 15, 2013



His name is Jack, his nickname is "Jackpot" and with good reason. Killed by a werewolf, but changed at the last moment by vampires he is spared from death. Then by a freak chance, he becomes mortal once more after an encounter with another werewolf. Now he's not completely human, vampire or werewolf... he's something more. K. C. Blake presents us with a unique blend of traditional vampires, werewolves and a bit more thrown in. It's a fast-paced tale of life, death, rebirth. Second chances that may not be all we hoped they would be. Friends and family become enemies and allies, with twists and turns sure to keep the reader on edge. This is the first in "The Rule" series. The characters can be a little hard to like at times, but when setting the stage for a series this can be forgiven as we watch them grow and find that there is still a lot more to come from this author and these books. Highly recommended for vampire and werewolf fans. I received a free copy of this book in exchange for an honest review.

Demon Tracker on May 01, 2020



In this third installment of the Council of Twelve series, the author throws us a curveball of sorts as she introduces not only a new character, but a whole new angle on the mythology of this series. It's interesting to watch how the author is taking the over-arcing story of the series a step further with each new character introduced. This time we get to meet a demon tracker, one of the best ever. However, her appearance could easily be mistaken for someone demonic herself, which is of course not the case. Besides those great horns on her head, what else is making her a target of the master of Hell. What is his connection to her and why is he so interested in asking questions about her parentage? All our old friends are here such as the Council of Twelve, along with Sundance and Kate from the previous installments of the series. As well as some familiar foes and new dangers. A jolly good read, which I highly recommend.