Ron Woodall
Biography
I'm an old man that has observed life. When I speak with young people I find they have a curiosity and a desire for information on what is life and how to gain the fullest. In my youth I didn't trust my ancestors because I didn't understand them. I have tried to analyze my society and try to figure out what would work for the individual and society. I've found that if we remove greed from the equation, society will flourish and all will benefit equally. It will also control the lawlessness in our society since there will be not need for enforcement. The root of the ills of our society are greed and jealousy, a hallmark of the self-centred.

This series of books attempts to show young people that they can live a good life and enjoy it without greed and jealousy. It does however, allow conscious selfishness. It is the instinctive selfishness that must be eliminated.
Books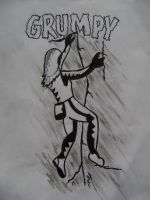 Grumpy
by

Ron Woodall
She's looking for a family. He's a grumpy old man looking for a reason to stay alive. She gets more than she bargains for, so does he. It's all about life, love, education, choices, learning, even sex.
Ron Woodall's tag cloud