Alan Rose
Biography
Born 1939 in London, England. Worked in the garment industry manufacturing sector from 1956 to 1963. Emigrated to the USA in 1963 spent one year at a shirt manufacturing plant in Tennessee. Attended Middle Tennessee State University for freshman year on a tennis scholarship 1964-5, and then the University of the South at Sewanee,Tennessee where in 1968 graduated Magna Cum Laude in French. Awarded a fellowship at Lancaster University,UK and received a PhD in French studies from Lancaster 1975. Published "Surrealism and Communism:The Early Years" in 1991. MBA University of Idaho 1988. Associate Professor French at University of Idaho 1969-99. Associate Faculty Universite de Savoie, France 1989-90. Professeur Associe, Ecole Superieure de Commerce,Chambery,France 1988-99 . National representative,American Federation of Teachers, AFL-CIO, 1975-6.
Player-coach University of Idaho soccer club 1970-2. Avid soccer fan and supporter of Leyton Orient FC,London,England. Married to a French woman, two sons.
Books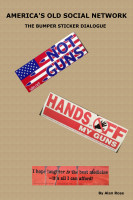 America's Old Social Network: the Bumper Sticker Dialogue
by

Alan Rose
An Idaho influenced, British cockney French professor looks at American culture through the dialogue between drivers in the USA, as evidenced from their bumper stickers. Photos of stickers are interspersed with commentaries explaining ideas expressed and setting them in the context of American culture and society. Those ideas include the political, the social and the mores of American society.
Alan Rose's tag cloud