Dalton Pepper
Biography
Dalton Pepper is the Nom de Pen for a serious academic whose name is actually something else. He has a PhD in a science-y subject from a university in the deep-south with a great football team. His resume also includes a long list of prestigious national and international writing contests in which he was a paid entrant. He writes fiction, non-fiction, fictional non-fiction, and non-fictional fiction, sometimes within a single sentence. Someone named Rick once commented that his writing combines the scientific insight of Mark Twain with the sense of humor of Enrico Fermi. He is adept at writing poorly in several languages, but he is be exceptionally well for written in English. He lives in California with a couple of younger women.
Books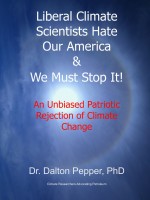 Liberal Climate Scientists Hate Our America & We Must Stop It! An Unbiased Patriotic Rejection of Climate Change
by

Dalton Pepper
(2.50)
America, the greatest nation that has ever existed, is under threat from the liberal scientific establishment, which insists on promoting a radical climate change agenda based on nothing but theories, computer models, and evidence. This book discusses the facts behind climate change and its clearly observable impacts, and explains why true Americans should ignore all of it and just invade Canada.
Dalton Pepper's tag cloud