Alwyn
Biography
The following was relevant for my first book, which was metaphysical in nature:
The author is a registered Professional Engineer with degrees in Electrical Engineering and Philosophy. Additional knowledge and experience have been gained studying Shorinji-Ryu Karate, Yang Taiji Chuan, licensed Massage Therapy, Hatha Yoga, and Vipassana Meditation.

For my second book, on Economics, nothing much has changed. More work experience, but that's about it.
Books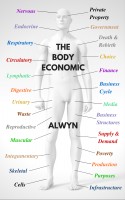 The Body Economic
by

Alwyn
A comparison of the systems in an Economy to the anatomical systems of a human body. This is a philosophical approach to how an Economy works, not a mathematical one.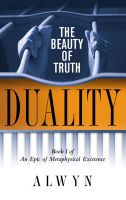 The Beauty of Truth: Duality
by

Alwyn
Science and Religion mix within us in an uneasy fashion. Faith in a Religion or a useful Science. We develop a truce between what we believe and what we know works. Duality is intended to show these opposing views are right, and wrong. From a belief in one Reality, and using Time as the lever, allows the most important question to be answered- how does it all work together?
Alwyn's tag cloud