Alycia Oppenheim
Alycia Oppenheim is a graduate of the Shakespeare Institute in Stratford-upon-Avon, England. She received her Master's Degree in Shakespeare Studies in 2016. Prior to pursuing her Master's Degree, she received her Bachelor's Degree in English Literature from the University of South Florida in Tampa, Florida.

Having a life-long passion for William Shakespeare and his works, Alycia worked as stage manager for several Shakespearean productions in England. Throughout her academic career she has studied Shakespeare and travelled abroad to further her academic studies. Alycia completed two study abroad programs in 2010 and 2011, at Cambridge University in England. She also attended the prestigious Shylock Project in Venice, Italy, that was done in the summer of 2016. When not immersing herself in the works of the great Bard, Alycia enjoys the theatre, traveling, and writing.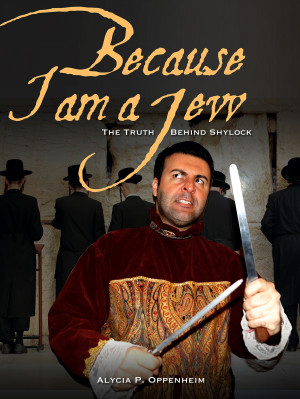 Because I Am a Jew - The Truth Behind Shylock
by

Alycia Oppenheim
Delving into the history of The Merchant of Venice, this book addresses Shakespeare's only Jewish character: Shylock. This unique book treats several topics including the way Jews lived during Shakespeare's time, and how historical events and personal experiences effected how certain Jewish actors approached Shylock (From Jacob Adler, Anthony Sher to David Serero). Written by Alycia Oppenheim.