Amanda DeWees
Biography
Amanda DeWees received her PhD in English literature from the University of Georgia and likes to startle people by announcing that her dissertation topic was vampire literature. Amanda's books include the widely praised historical gothic romance "Sea of Secrets," a finalist in the 2013 Maggie Award for Excellence historical category, and the Ash Grove Chronicles, a captivating young adult "paranormal lite" romance series set in modern-day North Carolina. Besides writing, Amanda's passions include theater, classic film, Ioan Gruffudd, costume design, and the preservation of apostrophes in their natural habitat. Visit her at www.amandadewees.com to explore book extras and more delightful diversions.
Where to find Amanda DeWees online
Series
Books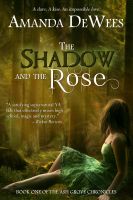 The Shadow and the Rose
by

Amanda DeWees
(5.00)
In book one of the Ash Grove Chronicles, sixteen-year-old Joy, a plain but spunky junior at Ash Grove High School for the Performing Arts in North Carolina, must rescue chameleonic teen model Tanner Lindsey from his seductive, evil, and possibly supernatural mentor, supermodel Melisande.
Amanda DeWees' tag cloud
Smashwords book reviews by Amanda DeWees
Midnight Hunter Book One in the Midnight Hunter Trilogy on April 18, 2012

Midnight Hunter, the first book in Bonnie Bernard's paranormal suspense series, introduces readers to a world full of danger, where vampires and other supernatural creatures exist alongside humans—but unbeknownst to most of them. Donna, the heroine, already suffering from frighteningly real nightmares and the memories of an old tragedy, falls into danger when a serial killer begins targeting women who resemble her. An unlikely protector appears, but can she trust him—even as she finds that they have an undeniable chemistry? Bernard has created a world that will remind readers favorably of Buffy the Vampire Slayer—but, intriguingly, with a more vulnerable heroine. In a genre increasingly filled with tough, super-empowered heroines, Donna is a protagonist we can really relate to and feel compassion for. She has good reason to be frightened, and she reacts like a normal person would when she suddenly finds herself in danger from forces she didn't even believe existed. It will be fascinating to see how Donna develops and grows into her role as heroine as the series continues. All of the characters, in fact, are vividly drawn, and even relatively minor supporting characters are fleshed out and memorable. It's my understanding that the Hunter books were originally intended to stop at three but that readers loved the characters so much that they demanded a continuation of the series. Now, that's a testament to the power of strong characterization! I always enjoy stories that leaven suspense with humor, and Midnight Hunter does that ably, as well as bringing in a compelling thread of romance. With a gripping plot, snappy dialogue, and memorable characters, this looks like the start of a truly compelling series.

Nature Calls on April 21, 2013

Bonnie Bernard's Nature Calls is a collection of original stories linked by a common theme, but so diverse and inventive that they range from the contemplative, almost Bradburyan "Welcome Mat" to the darkly violent "Hell Mutt." A recurring figure is Yeti, seen in interactions with a series of distinctive figures—from a space alien to Jesus! "The Ricki Shay Effect" is a look at the unexpected aftermath of literary success that's both charming and chilling. Ms. Bernard brings her welcome brand of humor and an eye for social satire to these tales, and the result is both entertaining and thought provoking. Readers who are distressed by depictions of rape and implied animal violence may wish to skip "Hell Mutt," but there is much else here to savor. Anyone who enjoyed Ms. Bernard's Midnight Hunter series will definitely want to check out this rich collection.