Amanda S. Green
Biography
Amanda Green grew up in Texas, land of tall tales and big hair. While she never liked the big hair, she loved the tall tales. She's been a teacher, a lawyer and has worked a myriad of jobs in the search for what she wants to be when she "grows up". Her ultimate goal is to become the "crazy cat lady" who writes stories people enjoy. She currently lives near Dallas in a multi-generational home that includes her mother, her son, one dog and a crazy kitten. Everything else is subject to change.
Where to find Amanda S. Green online
Books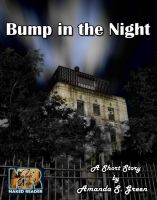 Bump in the Night
Sometimes a writer can put too much of themselves into their work. When they do, bad things can happen -- not just to them, but to those around them. That's especially true when the moon is full and the nights are long and the unsuspecting simply won't go home. Didn't anyone ever teach them the dangers of overstaying their welcome?
Amanda S. Green's tag cloud