AmberBroyles
Biography
Man, I hate filling these things out. How to describe myself, how to tell my story. I don't know. I write. I've been writing since before I knew how to read (I know how that sounds, impossible!) But I had this older babysitter that was like a Grandma to me. She had this really neat old type writer that I was instantly drawn to. I use to spend my days with her typing pages of nonsense. She'd ask me what it said and I'd describe these outrageous stories to her about magical animals and places. So yeah, I'm a writer. I've been writing my entire life and I not stopping now. It's only the beginning!
Where to find AmberBroyles online
Books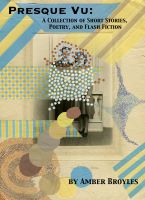 Presque Vu: A Collection of Short Stories, Poetry, and Flash Fiction
by

AmberBroyles
Presque Vu is a collection of short stories that span the early years of Amber Broyles's writing career. They range from the ordinary to the macabre, from murder to an innocent breakfast. If you're looking for variety in tone and subject matter you've come to the right place.
AmberBroyles' tag cloud