Ambrosia Arts
Publisher info
We are a co-founded company for artists of all kinds. Truly every genre, venue or style. We support artists, from writers, poets, visual artists and musicians. We want to reach every type of artist there is, fashion designers, comic strip writers, painters, portrait artists, even landscapers who specialize in creating masterpiece gardens. There is art in so many things that we do, from horse training to home design. Our ambitions at Ambrosia Arts include finding new talent and bringing it to you in a way that is truly unique and hopefully inspirational.
Where to find Ambrosia Arts online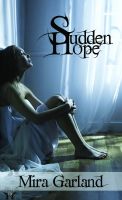 Sudden Hope
by

mira garland
When your nightmares become reality and you can't wake up, what do you do? Celeste is a normal teenage girl. After the loss of her father, her life seems to be in constant turmoil. She realizes her worst nightmares are occurring while she's still awake. Just as it looks like her life is on the right path, things go terribly wrong and leave her in a spiraling whirlwind of emotion.
Ambrosia Arts' tag cloud