Amy Machelle
Biography
Amy is a teacher who uses writing to escape after long days of tying shoelaces, opening ketchup packets, and begging children to please use tissues instead of sleeves.

While it had always been a hobby for her, writing swiftly turned into an obsession during the sweltering summer of 2009. A year of clacking away on her laptop later, she typed the final period of her young adult paranormal romance, Saving Elizabeth. Satisfied, she packed her laptop away, but the characters she'd invested a year of her life in insisted on being shared with the world. Tell-Tale Publishing Group is proud to be bringing this to you in December, 2011.
Books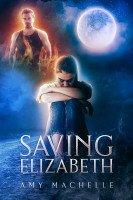 Saving Elizabeth
by

Amy Machelle
Elizabeth meets Riel, the boy from her dreams, and he knows more about her than is humanly possible. He says she possesses a coveted gift that all of Hell is clamoring to seize. The monsters she dreams of are real, and they're battling for her soul. Soon, Elizabeth is thrust into a spiritual realm where she doesn't know friend from foe.
Amy Machelle's tag cloud