Andrew J. Peters
Biography
Andrew J. Peters is an author of fantasy, contemporary and young adult fiction. He is currently an administrator at Adelphi University's School of Social Work. Prior to that, he spent eighteen years as a social worker and an advocate for LGBT youth. His work has appeared in Diverse Voices Quarterly, Wilde Oats, La Bloga, and Ganymede. His novel, The Seventh Pleiade will be released by Bold Strokes Books in November 2013.
Where to find Andrew J. Peters online
Books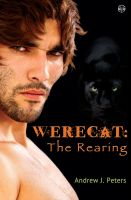 Werecat: The Rearing
by

Andrew J. Peters
(3.00)
For Jacks Dowd, a college senior who feels ungrounded from his family and life in general, an alcohol and sex-infused weekend in Montréal sounds like a pretty good escape. His Spring Break binge takes a detour when he meets Benoit, an admiring drifter with startling green eyes. A hook-up turns into a day, two days, and then a full week in Benoit's hostel, making love.
Andrew J. Peters' tag cloud