Andy McCutcheon
Biography
Andy McCutcheons career began in institutional security operations. After joining the military in 1983 he was hand selected for service as a paratrooper in Canada's elite Special Forces Unit - 2 Airborne Commando and highly trained in specialized Airborne tactical operations. Prior to leaving the military he was the multi-recipient of the 1988 Nobel Prize for Peace.

After his release Andy acquired a Commercial Pilot's License and began flying as a 'bush pilot' on an amphibious C-206 in remote regions of Canada's near north. He later returned to Toronto accepting a varied role as the base operations manager for an on demand air charter operation flying a ten passenger 'Dassault Falcon 20' business jet.

Andy made numerous contacts within the entertainment industry and massaged those contacts into a specialized niche service, amalgamating aircraft charter, secure ground transportation and celebrity personal protection [Bodyguard].

From its humble beginnings, Andy built "The Saint Security & Transportation Inc." into an iconic brand to the 'Who's "Who" of Hollywood.'
In addition to celebrity clientele, Andy routinely worked for the Canadian Government, providing services to the Prime Minister, high-ranking Members of Parliament and the Department of Foreign Affairs - looking after delegates from visiting nations around the World.

Following the 9/11 Terrorist attacks in NYC – Andy pioneered a superyacht security program and spent several months aboard two 150' Superyachts, 'Sun Cell' in St. Tropez France and the other, 'Overkill' in Ft. Lauderdale Florida, USA.

At the apex of his career, Andy was considered to be one of the most prolific celebrity bodyguards in the World.

Despite being highly recognizable – Andy secretly yearned for life with a hint of normalcy and after meeting his now wife Charlene in Los Angeles, [the daughter of a professional drummer]; he retired in 2002 and moved to Australia where he currently lives in relative anonymity.

Andy has recently authored a book on classic boats entitled, "100 Years of Wooden Glory," and an Autobiography detailing some of his most daring roles as a paratrooper in the military and as a bodyguard to the superstars, titled "Saviour"
Books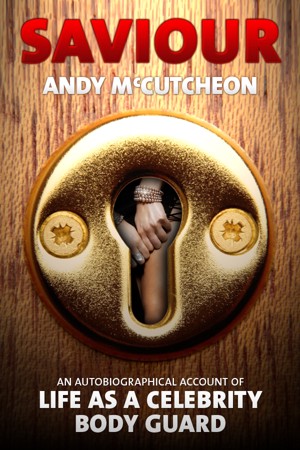 Saviour
by

Andy McCutcheon
'Saviour' is an autobiographical account of life as a Bodyguard amongst reigning world leaders, professional athletes and some of music and films most recognizable names. Each new chapter weaves you further into a web of obscurity, detailing the lives of extraordinary people who function daily in the "fishbowl" of society.
Andy McCutcheon's tag cloud