Andy West
Biography
I don't even remember learning to read, it seemed like I always could. From the beginning I was always very interested in books; but factual books as much as fiction. Physics, the big picture of the Universe, this was an early love, and Carl Sagan an inspiring hero, which all led to a degree in that subject.

But Evolution has been my most passionate intellectual hobby during later decades (I was born in 1958 by the way). Most of my stories tend to have an underpinning of evolutionary mechanisms, from the 'big engines of history' to the tricksy workings of individual memes. How evolution applies to, and operates within, sentient societies, is the juicy core of the fruit for me. Though I've lightened up on a couple lately, it has been said by some that many of my stories are not for the faint hearted, though they leave a lasting impression : )

I'm a member of the most excellent Northampton Science Fiction Writer's group; see our webpage here (with big thanks to Mark West):
http://northamptonsfwritersgroup.blogspot.com/

Some publication details: My novella 'Meme' was serialised across four issues of the webzine 'Bewildering Stories', also featuring in the editor's choice edition issued April 07. SF shorts are: 'Impasse' in the (print) themed anthology 'Dislocations' from Newcon Press (August 07), 'Rescue Stories' in a special edition of Focus, a magazine of the British Science Fiction Association (March 09), 'Mano Mart' in 'Shoes, Ships and Cadavers' from Newcon Press (October 10), 'Empirical Purple' in the 'Matters Most Extraordinary' (on-line) anthology (March 11), 'The Curator', which won the University of Central Lancashire's SF competition prize and will be published as an interactive ebook later in 2011, and a story inside 'Fables from the Fountain', a linked-theme anthology published in April 2011 by NewCon Press and featuring a stellar cast of award-winning authors, of which Neil Gaiman, Stephen Baxter, Charles Stross, and Liz Williams are merely a sample.

Andy West – April 2011
Books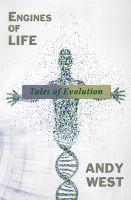 Engines of Life: Tales of Evolution
by

Andy West
Six piercing novellas and novelettes of philosophical science fiction, lovingly crafted by a prize-winning author to provoke and arouse. Includes the controversial cli-fi story, 'Truth'.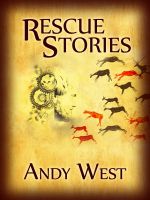 Rescue Stories (A science fiction novelette)
by

Andy West
(5.00 from 1 review)
When their ship crashes, the post-human crew of the Hermes launch a desperate bid to accelerate the technological development of the primitive natives, so that when the crew awake from hibernation they might find a civilisation ready to repair the ship. Memetically primed to search out an assist God's Hidden Angels, how will the natives react when they finally encounter the post-human crew?
Andy West's tag cloud