Anita Horan
Biography
Anita Horan was born to an Italian father and red-haired, Australian mother. She was raised with her four siblings by Lake Macquarie on the picturesque east coast of Australia. At the age of seventeen, she moved to Tasmania to become a missionary, and a few years later, relocated to Sydney. While in Sydney, Anita lost her faith, her health deteriorated and she developed a unique psychotic condition. After her recovery, she wanted to share her story, so that others don't feel they must suffer in silence. Anita has a strong interest in religion, the ocean, photography, psychology and sociology. She likes to write about interesting people and examine unspoken social taboos, weaving both together with humour. 'Is This Me?' is her debut memoir, with a follow-up in the works.
Where to find Anita Horan online
Books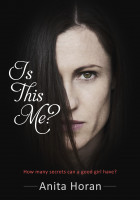 Is This Me?
by

Anita Horan
Anita opens the door and flees, screaming as she runs toward the river, a man chasing in hot pursuit. This opening scene is a surprise considering Anita is the quintessential 'good girl' who was raised as a fundamentalist Christian. You'll glimpse inside a tortured soul as she spontaneously approaches strangers to understand herself. 'Is This Me?' is the prelude to an astonishing and larger story.
Anita Horan's tag cloud