Anita Owen
Biography
Anita Owen was born and raised in Wyandotte, Michigan. As a young child, she could hear disembodied voices and see what others could not. By using her gifts as a "sensitive", Anita has been able to save two people from dying. Soon after the birth of her first child, Anita and her husband Fred were called upon for ghost investigations. Fred had done this before and his name was still "out there". Now semi-retired she looks back on her life, in awe of the amazing journey that got her this far.
Books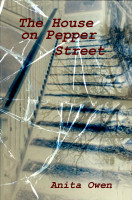 The House on Pepper Street
by

Anita Owen
When the Andrews' Family move into a quiet street in Detroit, they never expect the dwelling to be home to a spooky inhabitant. They spend a year in the house, haunted by their prankster companion. When the incidences turn darker, what is the family to do?
Anita Owen's tag cloud