Anja Kersten
You sit on your comfy, blue sofa chair right by the shelf of your most beloved books and read a story, that transports you into a different world like Tim Burton's version of 'Alice in Wonderland'.
It's wonderful, it's dark, it's magic.

I know you love books that are entertaining and thought-provoking at the same time.

This is exactly what I set out to do, when I sit at my desk and write.

Hi, I'm Anja and I love to invent quirky stories, write soulful memoirs and meaningful essays. I grew up in Germany in a small, very picturesque town, called Bamberg. Now I live in beautiful St. Ives in Cornwall, surrounded by the turquoise sea, cliffs and romantic landscapes. It suits my dreamy, creative nature.
Books have always been a very important part of my life. My parents, instead of watching TV with me, read out children's books like 'The Neverending Story'. I used to secretly read books until late at night, using my torch underneath the blanket. My bedroom door was unfortunately made out of glass …

I seriously started writing after having found out on my 18th birthday, that my aunt was an incognito poet, writing me birthday cards with her brilliant poems for years on end. She inspired me hugely.

I studied Social Work and later trained as an actress in the School of Physical Theatre in London. I wrote and developed two solo shows, as well as co-wrote a four women piece, that was performed at the Fringe in Edinburgh.
Since 2013 I have focused mainly on writing fictional short stories, memoirs and essays. My love for improvisation informs my writing process greatly. In my newest book 'Inapprorpiate Colours, 12 story-delights for the whacky mind' my imagination has certainly taken me to a lot of absurd places.

I often get asked: 'So, when do you write a novel?' And I answer: 'When the time is ripe!'

Head over to my website to find out more about me and what I'm currently up to: www.anjakersten.com
About my new E-book: 'Inappropriate Colours, 12 Story-Delights for the Whacky Mind'
In this short video snippet I tell you the shocking truth about shitholders, snoring blueberries and troll hoovers. I also let you in on my writing process and how I find the inspiration for my stories.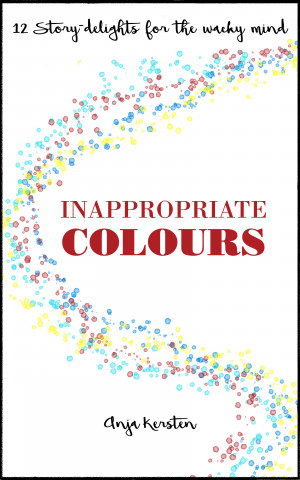 Inappropriate Colours, 12 Story-Delights for the Whacky Mind
by

Anja Kersten
(5.00 from 2 reviews)
Inappropriate Colours,12 story-delights for the whacky mind is for adventurers at hearts like you, who love to venture into new imaginary realms, full of absurdity, laughter and surprising twists you didn't see coming. Meet Mr. Nobody or Somebody, the pasta measurer or the conductor frog amongst many other peculiar characters.