Sofiani Adams
Biography
My dear readers,

I would like to tell you a short Bio of myself and to share some experiences from my life that inspired me to write my first novel, ANNA. I'm fifty-one years old, a wife, and mother of two adult children, two grandchildren, one on the way, and two dogs. My family is my life, they are my heart and soul.

I came to America thirty-one years ago. I was young and very naïve. Before I came to this country, I was living with my family and was sheltered from the cruelty of the world. I was inexperienced regarding the hardships of life. Learning English was very challenging. I speak very poorly, but I forced myself to learn. I didn't have the luxury of going to school or college to learn proper English. I basically taught myself how to speak by reading a lot of books and participating in a daily conversation with those around me. My English improved, but it's not perfect. Many years later I got a good job and gained enough confidence to write a book, mainly to prove to myself that I could do it. Some people rolled their eyes when I told them I was writing a book. I could see through their expressions what they were thinking: "You? Writing a book?" I smiled and laughed because to me that's the best medicine to heal the pain I've carried in my heart. I told myself to just keep doing what you are doing, and believe in yourself. My mother used to say "Don't worry about what others think of you. Remember, actions speak louder than words."

I have been subjected to criticism and hurtful words. Some people even made fun of my accent. At work, some clients or customers didn't want me to help them. They would request someone who could speak English, because of my accent they didn't feel comfortable speaking with me, or maybe they didn't like me. Regardless, I was going to prove to myself I could do it. My mother's voice kept ringing in my head reminding me that anything is possible, if you dream big, and work hard you can achieve anything in life. I basically began writing this novel in June 2000 and completed it in December 2000. Finally, here I am 16 years later publishing my first book, in English my second language. It is so dear to my heart and soul. I have been fortunate to travel to many countries and have met many amazing people. I have lived, learned, and benefited from my exposure to many different cultures. Travelling has created unique experiences that have inspired me to write. Thank goodness for my publisher, my editors, and my husband. It took me sixteen years. I have fulfilled the dream of publishing my novel.
I have experienced many hardship and challenges in my life, but encouragement from my family and friends has helped me overcome these difficulties. In January 2011, at 2:30 am I was rushing to the emergency room with a heart attack. My husband couldn't believe it. My primary doctor was shocked. She saw me three months before the incident and told me I was very healthy. I hadn't been sick in years, not even a cold. Nine months later I had another one! This time it was bad. I thought I was dying. It was a scary moment. I was diagnosed with a hereditary cardiovascular disease. I had another heart attacks on July 6, 2016, and six days later I had another one, four heart attacks in five years. I was so lucky. So far, I am still here with my family. I live my life one day at a time. I decided last year that I wanted ANNA to see the world before something happened to me, and I might not be so lucky next time around. My story is fiction, but some parts are based on my childhood experiences. I hope ANNA's story will encourage people in need of help to ask for help, to follow their dreams, and believe in themselves regardless what others think of you.
Thank you, my readers, for your support. God bless you all. Love and hugs from the bottom of my heart. I hope you enjoy this world of ANNA, that I've poured my heart and soul into.

Sincerely,
Sofiani Adams
Sofianiadams2016@yahoo.com
www.facebook.com/charlienola
Books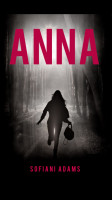 ANNA
by

Sofiani Adams
Price:
$7.99 USD.
Words: 235,690.
Language: American English.
Published: July 18, 2017
. Categories:
Fiction
»
Romance
»
Adult
Anna is a naïve innocent girl from Asia, who falls in love and marries a foreigner. She leaves her family believing her husband will love and take care of her for the rest of her life. She goes through mental and physical abuse from him and doesn't know where to turn for help. Feeling trapped in her marriage until she meets a co-worker that is willing to help her escaped the abusive marriage.
Sofiani Adams' tag cloud