Anna Tableaux
Biography
For years Anna Tableaux has wondered why fantasy worlds so often fetishize violence and demonize sex. Why sex is so often portrayed as something done by men to women. For years she has searched for books with strong, sex-positive women protagonists in well-crafted fantasy worlds. She wanted books to have plots that are lively, fast-paced, witty, with adventure, surprise turns, intrigue—along with scenes of delicious and explicit sensuality. Finding none that live up to her desires, Anna finally decided she had to write it herself. And if she was going to go to all that trouble, it might as well be a masterpiece. And if it was going to be a masterpiece, it might as well be part of a series. Hence: Erotic Masterpiece, Volume 1: Laliah Unchained. Whether there's a Volume 2 will depend on the success of Volume 1, and the lure of its cliff-hanger conclusion. So if this book floats your erotic boat, if you want to find out what's next in store for Laliah, recommend it to a sexy friend!
Where to find Anna Tableaux online
Books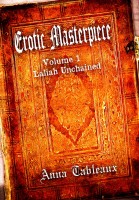 Erotic Masterpiece, Volume 1: Laliah Unchained
by

Anna Tableaux
Price:
$2.99 USD.
Words: 61,460.
Language: English.
Published: January 21, 2015
. Categories:
Fiction
»
Fantasy
»
Epic
Insolence is the last thing Prince Broderick expects from a chained naked girl awaiting grisly death. It won't be the last surprise from Laliah, whom he rescues and carries home to become...concubine? friend? ambassador? First ever sex symbol in Callisto? If only she can avoid the clutches of his sadistic brother--or is she darkly attracted to him? 1st in the Four Winds World fantasy sex series.
Anna Tableaux's tag cloud