Anna Taylor
Biography
Anna Taylor is California- native, Arizona- raised teen writer who is over the moon that something has come of her odd obsession with words. Belakane is Anna's first writing to be published, and she is eternally grateful to Angela Carling for the crash course she has gotten in all things author. When she isn't writing, Anna is thinking about writing or finishing up her Senior year of high school, and, yes, those two often coincide. Her family often act as beta readers for literally anything that resembles a plot line. Anna has special place in her heart for anything that is furry and has whiskers, and always has room for an In and Out shake.
Books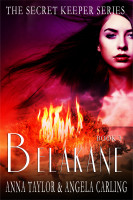 Belakane - The Origin of The Secret Keeper Curse
by

Angela Carling

&

Anna Taylor
Belakane lives during the terrifying age of the Salem Witch trials. Unlike the women around her, she actually is a witch. When Belakane's magic gets her best friend accused of witchcraft, the powerful sorceress creates a risky enchantment to protect what's left of the small group of friends who hide her secret. Will Belakane's power save her friends or will it be the demise of all she holds dear?
Anna Taylor's tag cloud