Anna Unknown
Biography
Anna Unknown is not my real name, but it is who I am. I use this name to protect my privacy as well as the privacy of all those mentioned in my writings. It is not my desire to draw attention to myself or anyone else. My intention in writing through Anna Unknown is to reach out to those hurting souls who believe that they are all alone. You are not alone. I am with you, right there beside you in this unseen world that surrounds us, tormenting us, trying to destroy us from the inside out. Daily walking on those broken shards of glass, being so careful not to say the wrong thing. Fighting those demons telling me to give up and die, there's no other way out. It may feel like we are victims, but if you could only see what is not visible to the human eye, you would realize, we are actually great and chosen warriors. We are in a battle and we must get up and fight! Join me, learn from me, take my hand and lets go on a journey through the eyes of Anna Unknown.
Books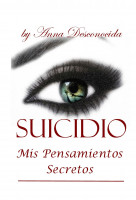 Suicidio, Mis Pensamientos Secretos
by

Anna Unknown
Suicide is something that seems to almost be forbidden to talk about. No one understands. They think you are looking for attention, but they have no idea of the pain and loneliness you so desperately long to escape. In this book Anna pours out her heart as she tells her story of abuse, loss and inner struggle with thoughts of escaping her reality through self harm, and then finally healing.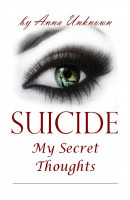 Suicide, My Secret Thoughts
by

Anna Unknown
Suicide is something you don't talk about, because no one will understand. They think you are looking for attention. They don't see the pain and loneliness you long so desperately to escape. I understand and here is my story. Let me help you find hope in the midst of your pain.
Anna Unknown's tag cloud