Anne M. Strick
Anne M. Strick has spent over twenty years in the movie industry. She has worked for Universal, Warners, Paramount and EMI, as a Unit Publicist, Project Coordinator and National Publicity Director, and with such Hollywood legends as Jack Nicholson, James Earl Jones, Sean Penn, Arnold Schwartzenegger, David Lynch and Dino De Laurentiis, among many others.
She has published articles, short stories, three non-fiction books, two novels, one self-help book (All The Doors to Hollywood and How to Open Them) and the heretical and highly praised ("remarkable") critique of our adversary trial system, Injustice For All. Her novel, Intimate Strangers, is acclaimed s the first to focus on the issue of contested adoption and the refusal of our courts to consider the welfare of our children almost at all.
Anne M. Strick, born in Philadelphia and educated at Bennington College and UCLA, lives in Los Angeles.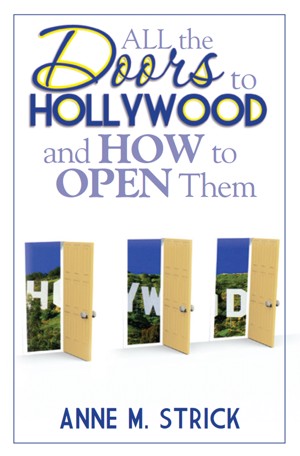 All The Doors To Hollywood And How To Open Them
by

Anne M. Strick
This book is for anyone interested in a job in films or television, and for movie fans who want to know backstage secrets, and how movies are REALLY made. It is a book of interviews with those indispensable behind-the-screen wizards who make movie magic actually happen. This book tells what they do, how they do it, how they got their jobs, what adventures they've had -and how you can join them!