Anne Macdonald
Biography
Anne Macdonald has worked in a variety of fields, law, banking, higher education and DEADLINES ARE MURDER (79,000 words) is her first book in an anticipated series of Sam Monroe mysteries. The sequel, WEDDINGS ARE MURDER, and an untitled third story are in draft stages. Sam Monroe is the protagonist of each story and her unique extended family members and friends are featured in each story.
Where to find Anne Macdonald online
Books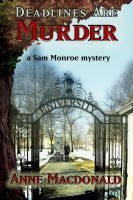 Deadlines Are Murder
Former banker turned budding romance novelist Sam Monroe is wanted in the murder of her soon to be ex-husband's grad assistant and lover, Ariella Fantini, until she proves that she couldn't have committed the murder. Sam is in a position to help solve the murder until the murdered want something she has in her possession. Sam suddenly becomes the next target. Will help arrive in time?
Anne Macdonald's tag cloud