Anne Toole
Biography
Anne Toole is a WGA-nominated writer for computer games, one-hour television, comics, and short fiction. Anne started her career writing for DAYS OF OUR LIVES, then became Head Writer for a game based on the STARGATE SG-1 series. She's written a number of game titles, including the dark fantasy RPG, THE WITCHER, which earned her the Writers Guild nomination. Anne has spoken extensively on games and entertainment and contributed to books from the International Game Developers Association (IGDA). A citizen of the US and EU, Anne graduated magna cum laude with a degree in Archaeology from Harvard.
Books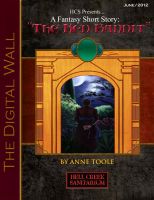 The Digital Wall: The Red Bandit
by

Anne Toole
The first edition of The Digital Wall. An original short story with original artwork. A thief in the library, a librarian and a mysterious treasure, but who is the real thief? The mystery of the real Red Bandit is shocking. How will they escape after the Kings guards break in to stop the intruder?
Anne Toole's tag cloud