Annie Buren
Biography
Annie Buren was born in New Jersey and currently lives in Pennsylvania, where she is married to her writing and chocolate. She enjoys writing and reading all genres of fiction, but her interest is held primarily by romance and all its sub-genres. When she's not covered in ink, she takes care of Little Guy, her pet air plant, who has been around long enough to witness the atrocities to more demanding plants and has since learned better.

A writer for fifteen years, "In the Wind" is her debut novel.
Books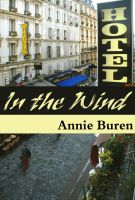 In the Wind
by

Annie Buren
As the new cleaning lady at Gurst International, Mary couldn't have conceived just how deep and dark the mess is. In over her head in a world she's far more involved in than she knows, she goes on the run for her life with a man trapped by the power of his enemies and personal demons, while an underground war and its killers close in on them. All they want is freedom—what they get is so much more.
Annie Buren's tag cloud