AnnieMae Robertson
Biography
AnnieMae Robertson is more a journey than a person. She has meandered like the universal string through this life and beyond, inside heads and hearts and dreams. She has twisted through social strata, crossing cultural boundaries to experience the persistence of poverty and the instability of affluence. She has listened to the stories of the birthgivers and the dying, and all manner of people in all manner of situations who taught her compassion first and foremost. Presently the journey has slowed to allow the retelling of all those stories, a task she manages at her computer in a miniscule apartment in Western Massachusetts.
She has been a poet, a playwright, a painter, and most important, has raised four wonderful daughters and one wonderful son.
Books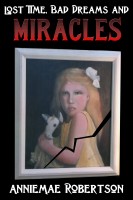 Lost Time, Bad Dreams and Miracles
by

AnnieMae Robertson
In this literary journey through the incredible life of AnnieMae Robertson, the author, renamed Bernie in this book, works to solve the mystery of the missing times in her life.
AnnieMae Robertson's tag cloud