Anthony Gillis
Biography
I'm an author of fantasy, science fiction, and adventure novels. Often dark. My stories tend to feature bold, angst-free protagonists who dare what others do not.
Where to find Anthony Gillis online
Videos
Twitlight - a parody
Here is the first promo video for my upcoming novella, Twitlight, a parody of a undeservedly successful paranormal romance series. I'm trying to partially fund the launch through Kickstarter. Info on my homepage.
Book Trailer for ALIEN EMPIRE
The book trailer for my epic sci-fi novel Alien Empire. When the aliens came, the world changed forever, but not even they imagined how.
Blood on Bronze Book Trailer
The epic book trailer for my sword and sorcery novel BLOOD on BRONZE. Visit Zakran, city of a thousand thousands! Meet the intense, driven Arjun, the beautiful dangerous Inina, and the charismatic, well-connected Bal-Shim! Two young lovers stand against pitiless enemies on the streets, and under them.
Series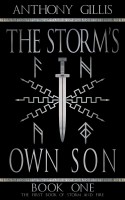 Books
Anthony Gillis' tag cloud
Smashwords book reviews by Anthony Gillis
Empire (In Her Name, Book 4) on June 07, 2012



An amazing read! The hero, Reza Gard, comes of age in the midst of an interstellar war between humanity and the warlike Kreelan Empire. It takes some surprising turns which I will leave to the reader to discover, but will say that the Kreelans are simultaneously very alien and yet comprehensible, even sympathetic. This one grabbed my attention immediately and kept it. I look forward to reading the next two books in the trilogy!