Judy Young
Biography
Judy Young, an award-winning speaker and writer, is based in beautiful, leafy Forest Hill, Victoria, Australia. Her formal education includes: Music, Communications, and Psychology; broadened by numerous studies in Public Speaking, Journalism, Dance, Drama, Art, Graphic Design, Computer Animation, and more. Accidental education: life with Brian (Mr Right) and the cats. Judy became a part-time vegetarian (just between meals) and a connoisseur of disinfectants, carpet-cleaning products, and cat shampoos.
Books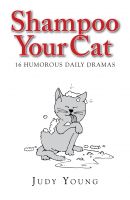 Shampoo Your Cat: 16 Humorous Daily Dramas
by

Judy Young
Shampoo Your Cat is a collection of 16 humorous stories based on daily dramas. This funny, quirky book offers a humorous interpretation of daily life where literal perspective explodes into lateral humor. An entertaining book dotted with gems of wisdom. A drama a day keeps sanity away!
Judy Young's tag cloud