April Follies
Biography
April Follies is, naturally enough, a pen name and Internet identity. The fool in question behind the name has a background in science, a weird sense of humor, and occasional pretensions to poetry. I'm fond of science-fiction, fantasy, the occasional mystery, many of the "classics", and antique poetry. Actually, to be frank, I'm fond of reading just about anything I can get my hands on, in a pinch.
Books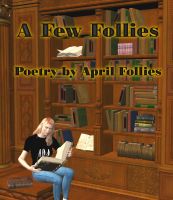 A Few Follies
by

April Follies
Poetry by April Follies, on assorted subjects and in a variety of styles. Included are twenty-seven poems, ranging from strict forms such as the sonnet and villanelle, to the more unorthodox "prose-poems" and completely free-form ventures, rhymed and unrhymed.
April Follies' tag cloud
April Follies' favorite authors on Smashwords
Smashwords book reviews by April Follies
Geraldine Hough's Very First Murder on Feb. 01, 2010

I recently had the opportunity to pick up and read two "cozy" mysteries. One was from a major publishing house, while the other was "Geraldine Hough's Very First Murder" from Smashwords. Against all conventional wisdom, the online-published book was by far the better of the two! "Geraldine Hough" presents us with a set of vivid characters, many of whom appear to have surprising depth to them. The titular character, of course, is best drawn. Few male authors, in my experience, do female characters very well; this work is a sparkling exception. Geraldine is very much a person you might imagine meeting for coffee; she "rings true", in contrast to the more common detective protagonists. The secondary characters are also nicely layered, and refreshingly far from stereotypes of all sorts. The plot is neatly woven; the mystery is neither obvious nor artificially obscured (common flaws in a detective story). Instead, the author presents us with the problem real police have all the time: even in the restricted setting set up by the book, there are many possible suspects - and possibly more than one crime! I won't, of course, spoil it here. Suffice it to say that the novel neatly manages to limit the scope of the mystery to the point where it can be artfully detailed, but does not sacrifice realism in characters or situations. I would also like to add that the novel is both well-written and well-edited. As someone who often winces at the abuse of the English language in the average novel, that's high praise! In short, I loved the book, I stayed up late into the night in reading it, and I highly recommend it. I look forward to Ms. Hough's second foray.